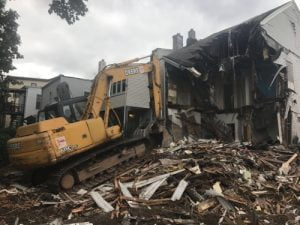 Before you hire the first contractor you find, take a moment to pause. It's worth your while to do a bit more research before choosing a business. To find the best contractor for your demolition job, ask these 5 questions before making your decision: 
1) Can I see your references?
What's one of the best ways to determine if a contractor will do a good job? By asking for proof of their work! If you can look at photos of past projects, you'll be able to see how they've handled work similar to yours. 
You may also want to read a few customer testimonials to learn about how they've handled previous projects. In these reviews, you'll find answers to questions like: did they clean up after the job was completed? Did they finish the job on time? Did they stay on budget?
These important details play a big role in how satisfied you'll be with a contractor's work.
2) How many years of experience do you have?
Demolition work is not the type of job for new contractors.  You want to work with a crew that's handled dozens, even hundreds of other projects. 
In general, look for contractors who've been in business for at least 5 years. That way, they'll have a good chunk of experience to rely on when issues arise. At Bella Contracting, we've been completing projects in the New Jersey area for over 10 years!
3) What will it cost?
Try to get a few bids on your job before you choose a contractor (aim to get at least 3 bids). Remember, you aren't looking for the lowest pricing—you're looking for competitive pricing. The contractor that offers you the least expensive price might seem appealing at first, but then you have to consider what quality of work you'll be getting. They may be underestimating how much time and labor is involved with the project.
Consider asking them what pricing plans they offer. You want to find contractors who offer transparent and flexible pricing models that fit your budget.
4) How long will my project take?
If you're on a specific time plan, your contractors must stick to your deadlines. You should ask them to give you specific start dates and completion dates for your project. The time estimate is sometimes just as important as the cost estimate. 
5) Are you licensed and insured?
Even with the most experienced contractors, accidents happen. You should only work with contractors who are fully insured so that you won't be liable for any damages that may occur. 
It's crucial to make sure your contractors have the right credentials. From licenses to training, you need to find a professional team. You don't want to leave your project in the hands of someone who doesn't work safely.
Looking for demolition contractors in New Jersey that are fully insured, licensed, and bonded? Contact Bella Contracting. We check all the boxes that you're looking for in a demolition crew. Give us a call to find out more about our services! We also offer demolition in Passaic NJ, demolition in Essex NJ, and demolition in Bergen county NJ.