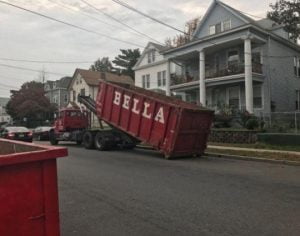 When we picture demolition, we often envision bulldozers and large piles of construction debris. Many projects require dumpsters to dispose of all the waste that accumulates. 
But not all of that debris needs to go to waste.
By salvaging materials, you can reduce your landfill contributions, save money on your next project, and even donate to those in need. As you plan your upcoming demolition project, consider if the following are worth salvaging:
Windows
It's no secret that windows are expensive. A single-pane window may not be worth salvaging, but one that's double or triple pane is. These windows provide insulation against heat loss and block outside noise. Try to remove and set aside any windows that are free from cracks or other damage.
Doors
There's no reason why a sturdy, working door should go to the landfill. They're easy enough to remove and install in another building, so why not keep them? 
Even if the door itself is in bad shape, you may be able to keep the doorknob. You never know when it'll come in handy!
Appliances
Dishwashers, fridges, and even HVAC systems can be removed and repurposed somewhere else. This can save you the expense of buying all-new appliances.
Cabinets
You can't bear to part with your antique kitchen cabinets—and why should you? Ask your demolition contractors to carefully remove and set them aside for you. They'll be easy to reinstall when it's time to replace the cabinets in your next home or commercial building.
Roofing Materials
Asphalt shingles can be salvaged and reused for your next project. Given the extensive cost of replacing a roof, having your own materials can help you save a decent amount of money.
Bricks
There's something unique about a building that's made of vintage brick. Seeing a brick structure get torn down is a shame—unless you set aside those bricks and save them for another construction site.
Lumber
Wood products are incredibly versatile and can be recut, re-stained, or repurposed into any number of things. The material might need a bit of work first, like re-milling and de-nailing. If the wood is painted or treated, it may not be salvageable.
Plumbing
Any old pipes, like those made with lead, should be thrown away with most of your construction debris. But if your plumbing system is in good shape and made from a sturdy material, it can be set aside instead of tossed out. Even plumbing fixtures like tubs and sinks can be donated. 
Flooring
Those hardwoods full of character don't need to get torn apart. Your demolition contractors can select the best boards and put them aside for future use. Ceramic tiles and carpet can also be kept, as long as they aren't cracked or stained. 
Salvaging these materials can bring down the expense of your next renovation or construction project considerably. It also saves you time—rather than going out and hunting for a good deal on doors or hardwoods, you'll have an ample supply at your disposal. 
Even if you don't need to use those materials, you can sell them or donate them to a Habitat for Humanity ReStore. 
A demolition project is not the type of job for an amateur contractor. At Bella Contracting, we have over 20 years of experience. Call us today for commercial demolition in New Jersey.
We also offer demolition services in Passaic.