Bathroom Remodeling Services
Your bathroom can be a sanctuary – a place to rest and relax. There's a reason they're often called restrooms.
If your bathroom isn't a place you can go to wash the day's worries away, give us a call. We've done bathroom remodeling for well over a decade now. Whether you're looking for some new additions to make your bathroom more peaceful or you want to totally change up your bathroom's floor plan, we can assist.
We want to help you build your dream home, and some of the best home improvements you can make are in the bathroom. Here are some bathroom remodeling ideas to get you inspired:
Get a Quote Within 24 hours!
Our team of construction & demolition professionals are always happy to speak with you and value your business. We are trained to handle any requests that you may have.
See what our clients are saying!
Manny A.

Ben s team did a thorough and very clean demolition job for a small bathroom. They are very hardworking and professional. Will definitely use them again.
Ryan B.

It was great working with Ben and his crew. They were able to complete the full demo of an old bathroom in under 2 days. Very happy with their work and would definitely work with them again.
There are people who have, with a few additions, turned their bathrooms into areas that resemble day spas. You can do it too.
Start by replacing your tub and shower with a walk-in shower – a chic addition to any bathroom remodel. Coupled with a frameless, glass shower door, your bathroom will become an elegant place to rest and relax.
No one likes getting cold feet – to help, consider installing heated floors in your bathroom! When you step out of a warm shower onto warm floors, you can't help but feel comfortable – a far cry from stepping onto a chilly floor after taking a shower in a cramped bath!
Lots of couples get ready for work at the same time, but find themselves cramped for space around the bathroom sink. Enjoy your time together and avoid each other's messes by putting a double sink in your master bathroom.
There are all kinds of additions you can get installed in your bathroom remodel. From bidets for comfort, to new high-quality lighting fixtures to light up the room, the only limit is your imagination. New countertops, new flooring tiles, new mirrors – the possibilities are endless.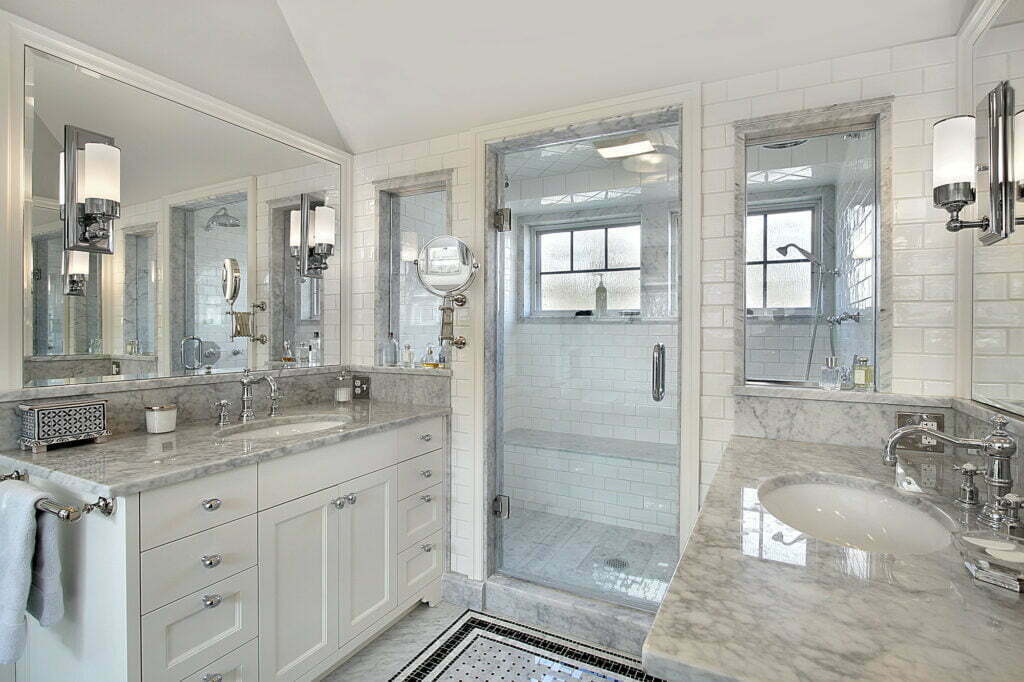 You can change how your bathroom is laid out to make it roomier and add fixtures. The standard bathroom layout is "everything on one wall". This is handy because it reduces plumbing costs – your sink, bathtub/shower, and toilet are all lined up in a row.
There are some pretty handy variations on this setup. Have you ever wanted a bit of privacy while you showered, but still wanted your family members to have access to the sink for their morning routines? You can add a wall and door between the toilet/bathtub/shower area and the sinks – private and efficient.
Want your bathroom remodel to have a more spa-like feel? Keep the sink and linens on one wall, and put the toilet and bath/shower on the other. This costs a bit more because you need plumbing running through both sides of the bathroom. The advantage? It's incredibly roomy, and there's lots of counter and storage space by the sink.
Have a different idea for the layout of your bathroom remodel? We'd love to hear it. Our general contracting skills mean we handle everything – electrical, plumbing, tiling, the works – so no matter what redesign you have in mind, we can do it well.
No two bathroom remodels are the same. The cost of your bathroom remodel will depend on what materials you choose, how drastically you're changing your floor plan, what fixtures you want to be installed, and many other factors.
You don't have to guess at the cost. You can talk to our design team – they'll help you bring your dream bathroom to life.
If you're thinking about getting your bathroom remodeled, call Bella Contracting today. With over a decade of remodeling experience, we're eager to take on any new project, big or complex.