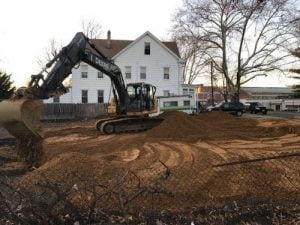 Before a residential or commercial property can be developed, contractors must consider the surrounding area. Will trees, rocks, or bushes interfere with their blueprints? If so, they may need to schedule land clearing services to prepare the property for construction.
But what does this service involve, and who can benefit from it? We're going to explain more about what land clearing services are intended for:
How Do Land Clearing Services Work?
First, the demolition contractors will survey the land to assess what needs to be removed. Depending on the requirements of the job, some tasks can be performed manually. 
Hand tools can be used to remove small trees and bushes. But to get rid of rocks or dig up bigger areas, larger machines may be needed. The size of the trees and rocks will determine what exact types of equipment will be required for removal. 
Once all tree trunks and branches are removed, the next step is digging up the stumps. The process varies based on your specific property. Contractors fill in gaps in the ground and flatten out uneven surfaces. The aim is to make the land completely level and uniform. 
When Are Land Clearing Services Required?
Wondering if you need to schedule this type of demolition service? It may be worth your while if any of the following apply to you: 
Pest control. 
Is your building dealing with non stop pest problems? You might be experiencing a constant rotation of mice, ants, and/or mosquitos. The problem may have less to do with the interior of your building, and more to do with what's nearby. Certain environments, like standing water, overgrown fields, and plenty of trees make perfect homes for pests. You can schedule land clearing services to remediate any areas of concern.
Remove problematic trees. 
Trees may post a safety hazard if they're overgrown, or unstable. Diseased trees can spread illness to other vegetation nearby if they aren't removed. If the tree roots grow far into the ground, they could interfere with the water and sewer lines below. Any of these concerns can be alleviated with land clearing services. Once diseased trees are removed, it facilitates the growth of new and healthier vegetation. 
Build a new home or business. 
Looking to develop your property? First, you'll need to level the ground that you plan to build the structure on. Clearing away land masses makes it easier to envision and construct your new building. 
Improve the aesthetics of your property. 
If you have dead plants, unsightly shrubs, or decaying trees on your property, it takes away from the appearance of your home or business. 
Are you planning to sell your property? It's tough to attract buyers when your property appears overgrown and unkempt. Land clearing services make your property much more alluring to potential buyers.
How Can You Schedule This Service?
For a job this varied and strategic, you want to ensure that you're working with experienced contractors. Land clearing services will require permits and paperwork. These steps ensure that contractors obey local guidelines and perform jobs that are up to code. 
When you require demolition in NJ, give us a call. At Bella Contracting, we've provided our services to the New Jersey area for over 20 years. Get in touch with us today to discuss your land clearing project.