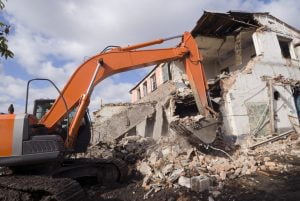 There's more than one way to knock down a building. In New Jersey, mechanical demolition is one of the most commonly used demolition methods. Here at Bella Contracting, we have well over a decade of experience in mechanical demolition. We have a team of 45 demolition experts, overseen by 4 veteran chief operating field supervisors. When you need a demolition done on time, with no incidents, and at a reasonable cost, we're the ones to call.
But what exactly is mechanical demolition?
It's demolition done with machines. Excavators, cranes – that sort of thing. The other two demolition methods are deconstruction (can you imagine removing every nail by hand?) and explosion (cool, but not fun for the neighbors).
Why use mechanical demolition?
Mechanical demolition is usually the most efficient way of demolishing a building. You might think that using explosives is faster, but preparing a building for explosive demolition is extremely time consuming – and costly. There are all kinds of environmental ordinances that limit the use of explosive demolitions techniques. 
That means mechanical demolition is usually the most cost and time effective demolition method. 
Different types of mechanical demolition equipment
Mechanical demolition is a complicated job – that's why you need experts with a full fleet of state-of-the-art demolition machines. To help you better understand the demolition process (and who doesn't like learning about massive machines), let's go over some of the equipment we might use in your demolition project:
Excavators
Excavators are the Swiss army knife of a demolition project. We have a wide array of attachments available for all of our excavators: grapples, pulverizers, sheers, and many more.
This suite of different attachments means that our excavators can be used to demolish anything from drywall to concrete and steel. Our fleet includes excavators that range in size from 8000 lbs to 120,000 lbs, so no matter how big or complex your demolition project, we have the tools for the job.
Cranes
At one point in time, cranes were mainly known in the demolition world for swinging wrecking balls around. Nowadays, the most popular Wrecking Ball is a Miley Cyrus song. High reach excavators have largely replaced wrecking balls in demolition projects, though we'll still use them in niche circumstances.
Cranes can do a lot more than just swing balls around, though. They can be used to lift and place protective barriers to keep dust and debris in place. In some cases, there is valuable (but very heavy) equipment that needs to be removed before a building is demolished – our cranes can do that. 
Bulldozers
Our bulldozers can be used to assist in the demolition of residential buildings like houses. They're also used to clean up all of the rubble on-site. You don't want to have to worry about cleaning up after a commercial demolition in New Jersey.  Our bulldozers help us take care of that mess for you.
The equipment and expertise you need
Here at Bella Contracting, we're experts at mechanical demolition in New Jersey. Our mechanical demolition process is perfect for:
Building demolition

Warehouse demolition

House demolition

Hi-rise demolition

Multifamily building demolition
We have the equipment and the experience you need to get the job done right. We'll assess your building's structure and, if mechanical demolition is right for you, we'll get to work as soon as you need us to. Give us a call – we're licensed, bonded, insured, and ready to take on your demolition project. No project is too big or too small.
We also offer interior demolition in Essex NJ.