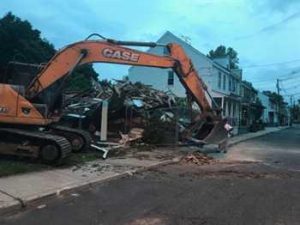 Once a demolition job wraps up, you'll be left with a considerable amount of construction debris on your property. It's tough to appreciate the results of a demolition project when stacks of rubble are in the way. Should you attempt to remove it yourself, or is it best to call a professional demolition crew to clean up?
Consider this: scheduling professional demolition services is a more efficient use of your time and money than attempting to clean the site on your own. Here's why:
Prevents Injuries
Removing construction rubble isn't as easy as cleaning up after a move out. After a demolition project, your property may be littered with hazardous materials. Disposing of it all carefully and properly is the key to preventing accidents and injuries.
Professional cleaning services become especially important if there are harmful materials, like asbestos. Demolition contractors know how to properly dispose of dangerous debris, whereas the average property owner might unknowingly expose themselves and others to health hazards.
The dust from demolition may cause respiratory issues for those with sensitivities. It's important to be careful when disposing of toxic materials, it's a practice that contractors are familiar with.
The sooner that debris is cleared off your property, the sooner you can start breathing easier!
Save Time
If you measured the time it would take for you to clean the job site versus the demolition contractors, you might be surprised at the difference. The contractor's skills, experience, and efficient tools will pay off when it comes to a professional clean-up.
Some property owners are tempted to clean the area themselves simply to save on an additional charge. However, this savings becomes insignificant once you factor in the extra time it will take to clean up. Time is money, and you aren't saving any if you don't call a professional contractor.
Take it Easy!
You've got enough on your plate as is—avoid the back-breaking work and hire a professional demolition crew instead.
If you decide to take on the work yourself, you might not realize what you're getting into. To haul away the debris, you'll need a truck with a large bed, a nearby garbage or recycling facility, and people who are willing to help. You'll be up to your ears in the rubble!
Lifting heavy materials requires proper techniques, not to mention a great deal of physical strength. Attempting to do this on your own may result in pulled muscles, wrist injuries, and back sprains.
Return to Productivity
It's tough to get work done when there are piles of crumbled drywall, smashed concrete, and other construction detritus in your way.
Cleaning up after a large-scale demolition project requires the proper equipment. Without it, you might end up making a bigger mess. Then you'll cost yourself even more in lost productivity! On the other hand, demolition contractors know precisely how to dispose of materials; they won't waste time finding equipment or planning removal techniques.
When you need demolition services in New Jersey, leave it to the pros! Doing so can save you from losing time, wasting energy, and injuring yourself or others. 
Need help with the clean-up? At Bella Contracting, we've got your back; we can help you overcome hurdles in the demolition process like proper planning, using the right equipment, and cleaning up safely. If you're looking for highly experienced contractors, give us a call!