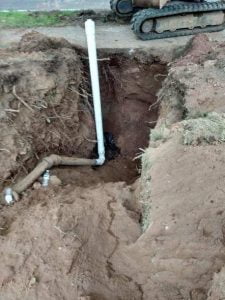 Before you begin an excavation project, there are many factors to consider. Have you accounted for what lies beneath the ground? When excavators survey a work site, they are sure to make note of where all underground utilities are located.
Utility lines (which contain resources like gas, water, and electricity) are built under the surface for protection from weather conditions or other external damage. If the lines are harmed, it may cause extensive destruction to the soil or surrounding properties.
Excavation work is time-consuming enough as is. You don't want to create more work for yourself by damaging a utility line in the process. 
Here are a few things that could happen if a utility line is damaged:
Service Disruptions
When a water or electrical line is damaged, it can no longer supply the property with that resource. You will be cut off from accessing it until the line is repaired. That may leave you without running water or electricity for several hours or days.
This will affect more than just your property. A damaged utility line can cause buildings down the street to lose power. If this disrupts service at a commercial building, the loss in revenue may be steep. 
Digging without planning ahead isn't worth the risk.
Property Damage
A damaged water line can result in flooding and contamination of the line. Suddenly, your yard might fill with water, causing damage to the grass and the structure of your property.
But if you have the misfortune of striking a sewer line, you'll have an even bigger mess to clean up. Those nearby may be exposed to Salmonella, Heliobacter Pylori, and Leptospirosis. The area will need to be thoroughly sanitized after the line is repaired.
Fire & Safety Hazards
Digging into an electricity line can be extremely dangerous due to the high voltage they contain. A punctured gas line can create a fire hazard and a massive explosion. 
You may be held liable to repair any damage, not only to your property, but the surrounding areas as well. The cost of these repairs can be enormous. 
How To Identify Utilities
While all utility lines serve different purposes, one thing remains the same: damaging them can have serious consequences. Now that you know how hazardous it can be to dig near a utility line, you're probably wondering how to avoid that. That job should go to an experienced excavator.
Before any work begins, contractors must mark each utility line in the area. They need to make note of the depth, size, and location of the line. This is typically done using flags or poles. Stakes are chosen based on the Uniform Color Code designed by the American Public Works Association (APWA). 
Once this is complete, there should be an outline of where each gas, electricity, and/or sewer line is located on the property. 
It's not as simple as marking utility lines and then working around them. Any time the excavators are digging close to a line, they'll need to exercise caution to avoid damaging them. The contractors may avoid the use of any machinery near a utility line and opt to use handheld tools instead; this gives them more precision while digging.
Locating lines is not something you can leave up to chance. For the health and safety of everyone involved, it's best to work with an experienced contracting company. 
With our excavation services in Connecticut, you won't need to worry about these worst case scenarios. You can trust in the quality of work that we offer at Bella Contracting. Call today.