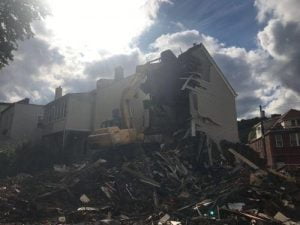 We're used to seeing plumes of dust rise after a building is torn down. But how do those particles affect other people and the environment? If a demolition project is not planned properly, dust can negatively impact the health of those nearby.
During the demolition of a commercial building, there is great potential for pollution and contamination. This may affect:
Residents and employees nearby
Even if a building has contaminated materials, it may still need to be torn down. How do contractors manage projects that pose potential harm? Here are a few considerations and methods used when demolishing buildings with tainted materials:
The Dangers Of Contamination Issues
When toxic particles from lead and asbestos enter the air, it's all too easy to inhale them. 
One of the challenging parts of managing contamination is that if someone is exposed, side effects typically do not manifest for many years. Asbestos is completely odorless, which means that people may be breathing it in unknowingly. Asbestos-related diseases have a latency period of 10-50 years.
Lead paint was commonly used in older buildings and homes. It can enter the lungs when one inhales dust that results from demolition. If this substance builds up in the body, it can cause weight loss, developmental delays, and nausea. High doses can be fatal.
Where Might Contamination Issues Arise?
Before the 1980s, it was commonplace to use asbestos building materials in the construction of residential homes and commercial facilities. Any structures built before the awareness of asbestos-related illnesses was known, will likely contain this hazardous material. 
When demolishing a structure, contractors need to test for the presence of asbestos. It can be found in floor tiles, insulation, cement, and more. 
In a building that is severely decayed or water damaged, concerns may arise about mold exposure. Demolishing rotten materials may release mold spores into the air and cause respiratory illnesses.
Neutralizing Contaminants 
If you're considering a demolition project, you may be wondering what contractors can do to prevent contaminants from becoming airborne.
It's easier to contain dust in an interior space, like during the selective demolition of a wall or flooring material. But contractors that need to demolish entire structures have bigger obstacles to overcome. Structures of this size require careful planning and precision to demolish safely.
A demolition crew can implement methods that minimize dust production and contain it in a designated area. This prevents people without protective equipment from breathing in contaminated air.
Water can be used to manage dust and materials that contain asbestos. Wetting the material will prevent the asbestos particulates from releasing into the air. Demolition contractors need to wet the material sufficiently to prevent contaminants from becoming airborne. 
At industrial facilities, chemical leakage may cause the surrounding soil to become tainted. In these cases, excavation services are often required; this form of environmental remediation prevents hazardous chemicals from affecting waterways and surrounding greenery.
When you're looking to schedule commercial demolition in New Jersey, you need to work with a crew of contractors who know how to handle contamination issues. You're looking for a professional crew with the experience to contain hazards and prevent pollution. 
At Bella Contracting, we're here to help. Contact us today to receive a quote for your next demolition project.